About Fieldtech Asia, Inc.
Fieldtech Asia, Inc. brings a fresh and innovative approach to the aviation industry, providing Sales and Service of Aviation products and modification services at an economical cost to the end user and represents all of the major OEMs in the industry through dealership contracts and/or service agreements.
Who We Are
Fieldtech Asia, Inc. is the leading aviation company based in General Aviation Area of Manila International Airport, Philippines. Since 2008, the company provides top-notch sales and service of aviation products and modification services. The company is certified as Approved Maintenance Organization by the Civil Aviation Authority of the Philippines (CAAP) and Certified Repair Station by US Federal Aviation Administration (FAA).
We take pride in representing all the major OEMs (Original Equipment Manufacturers), ensuring that you have access to the highest quality aviation products available in the market. Whether you're looking for aircraft parts, components, need maintenance, upgrades, or new installations, our team of experts is here to deliver exceptional service and value. Trust us to deliver exceptional products and services while keeping your budget in mind. Experience excellence in aviation with us today.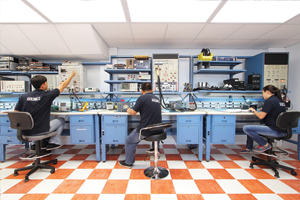 Our History

2015
Moved to Avionics Hangar to better serve our clients with their Aircraft Modification and Avionics Upgrade Services.

2011
The company became a Certified Repair Station by the US Federal Aviation Authority (FAA) to serve N registered Aircraft and its parts.

2009
The company was certified by the Civil Aviation Authority of the Philippines as Approved Maintenance Organization.

2008
The company was established to meet the lack of fully equipped facility in the Philippines.